Generally, my fiancé is not a romantic person. Our relationship is always fun and playful. We both knew that he was going to propose to me on Christmas, and we'd even made jokes about how he would do it (his favorite joke was to pretend to pull it out of my belly like a magic trick, and ask me if I ate the ring).
On Christmas, we were both recovering from Covid, and we were fatigued just from opening presents. We were planning to mountain bike one of our favorite trails, but the sun kept sinking in the sky… He suggested a sunset hike, and I informed him that Google projected the sun to set "in 17 minutes." We scurried to the trailhead, and ran up the trail as fast as we could.
The light was fading fast, and I tried prompting him several times, but he insisted we get to the top. Once we were there, after much huffing and puffing, we watched the last orange fade to blue above the ocean.
He held me under an old oak tree for a long time, and then he said seven year's worth of romantic things that he'd been bottling up. I didn't think I'd be surprised at the proposal, but I really was. I cried when he slipped the ring onto my finger, where it shone in the moonlight.
We returned to joking all the way back down the trail, but I'll always remember that special moment.
I love my ring (I picked it out). It's from Brilliant Earth.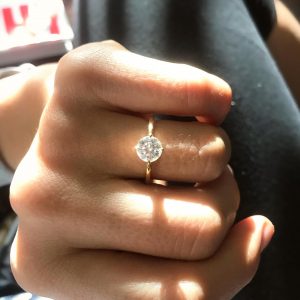 My wedding is over a year away, but as soon as the ring went on every platform started fully advertising wedding dresses, registries, honeymoons, decor, invitations, and everything else under the sun. Weddings are a big market, and now it's impossible to escape thinking about it (not that I want to).
What I gathered from in the information overload was that I'm going to need help planning. So, full of new inspiration, I made my bridesmaids scavenger hunts for Valentine's Day. I made four, but I might be able to get five bridesmaids (so I might be making another). I have a local friend who I want to ask too, but my fiancé won't make the call for how many groomsmen he'll allow yet.
The Scavenger Hunt:
I took blank puzzles, and I wrote a poem of clues on the back, leading from place to place.
Then, I made oil pastel pictures on each one (I had to use a setting spray that I feared would bind the puzzles together, but it ended up being fine).
I separated the puzzle pieces per clue, and I put them into envelopes that I stamped with a key.
I wrote a list of instructions of where to hide each envelope to my bridesmaids' significant others (and obviously addressed the packages to the SOs).
The last clue led to a present hidden in the dryer–a copy of my book, and a custom mug from Shutterfly with pictures of me and each girl. It was super fun to make (and I got all yeses!).
I'm excited for wedding dress shopping, picking venues and decorations, and everything else, but I should probably cool my jets. We have awhile to wait.
x